January 3, 2022
As a consummate procrastinator, I meant to write this yearly review on December 31. Then I remembered that I had an invite from my friend Damien to ride around Lake Geneva on that day. 167 kilometers on a mad group ride in spring like weather was a nice way to finish off a pretty darn good year. The yearly review would wait.
According to a well known orange app, this ride brought my 2021 mileage to 10998.3km. And no, I did not get back out to ride another 1.7km before midnight once I saw it. Instead, I enjoyed a nice New Year's Eve with Lillie and Ben, capped with a dinner of spaghetti con vongole washed with kid's champagne.
Taking photos
Anyway, I'm writing this in 2022. And thinking of the past year brings a big smile on my face: I had many great, great moments. First and foremost, I spent a lot of time doing what I love: ride my bike and take photos. Exactly 17'226, according to my editing software. About 99.5% of them were crap or just average, but I did get some nice ones. And more importantly, it just made me feel good. I love the process of trying to create beautiful images. Ones that will convey my emotions as I ride my bike: man, what a beautiful place! This is an awesome day! Riding with friends is so much fun! No way, a hailstorm! Oh that climb hurts, this is type 2 fun at its best! You know the deal.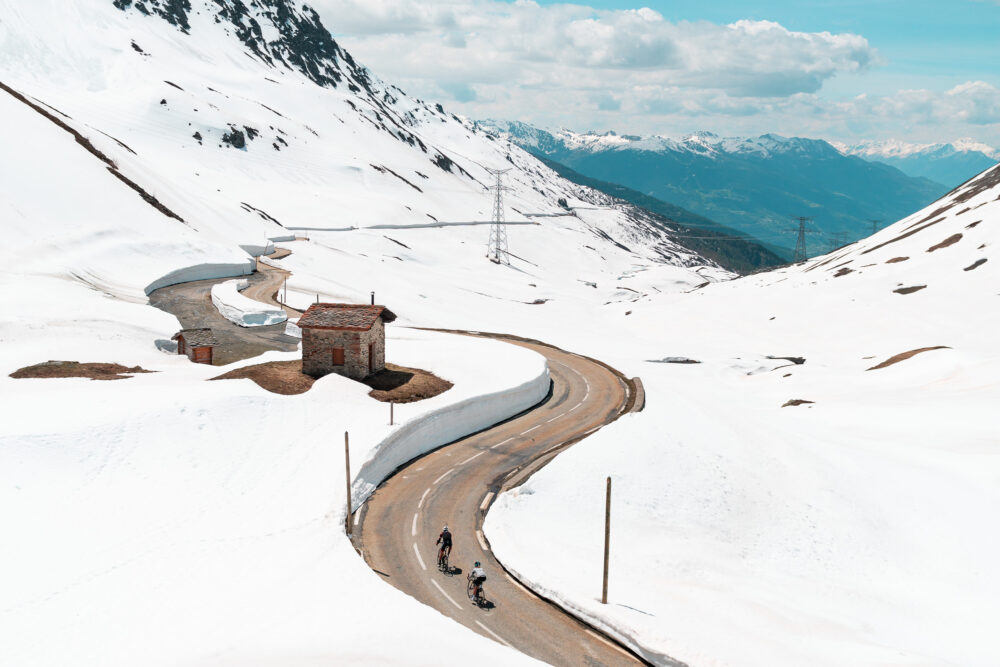 Big bike rides
I also went on a number of stupidly long rides, something I have come to enjoy more and more. I just love the simple pleasure of riding all day long, eating all I can and moving slowly but surely across changing landscapes. This is where I manage to truly disconnect from the daily grind and just get lost in my thoughts, something I badly need as an introvert.
In August, I went to visit my daughter Wendy who lives near Tours in France. To get there, it took me two days of riding west, most of the time with a head wind. And surely enough, I did not get much of a tail wind on the way back a few days later. There were few climbs apart from the crossing of the Jura and the Morvan, a small but beautiful mountain range I didn't even know existed (check out my route on komoot here).
In fact, I spent most of my time riding on deserted, flattish roads with a rough surface. There were few villages, and even fewer places to fill my bottles or get food: that part of France is a sad example of rural depopulation.
Sounds bleak, right? Not from a bike. This is the best way of getting to know a region. The geography with the little undulations on the road, the rivers. The economy: what do they grow in these fields? Where's the next big town? The weather: where are these rain clouds moving? Answer: generally, towards me. I have no time to get bored on a bikepacking trip. And last but not least, there's boulangerie hunting. Bakery stops were amongst the highlights of my trip and I've never eaten so many pains au chocolat, which are the best food when bikepacking: chocolaty sugar, buttery fat, salt and the best calorie-to-taste ratio out there.
To keep myself entertained, I also shot videos from my phone, which I shared along the way (see the highlights here, which include a lot of pain au chocolat munching).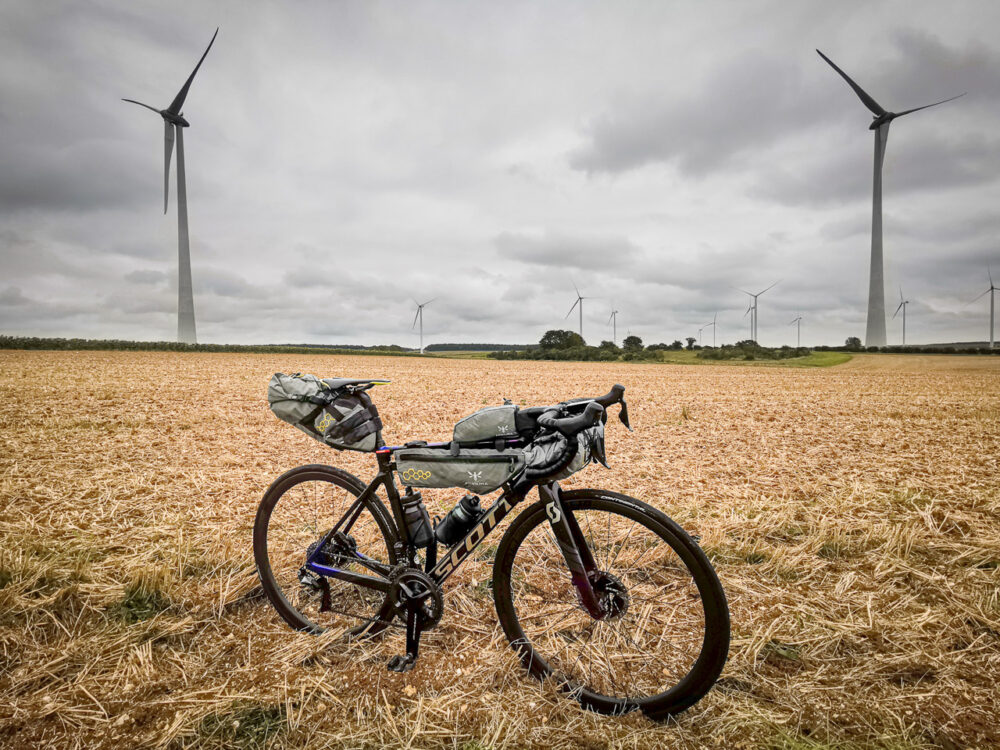 A very long race
All these long days out made me strong. Not fast, just strong. I used that fitness on a few events, including the Swiss Ultracycling Challenge organised by my friends Vincent and Marc. It is a race and we got a numbered cap, but it is a fun challenge above all: everyone starts at 10.10am on the same day from a train station of their choice and the goal is to ride in all of the 26 Swiss cantons (provinces), stop at 7 checkpoints and finish in front of the Swiss Parliament Building in Bern.
It took me 57 hours and 43 minutes to get there and I went through every possible mental state along the way, which is pretty much what ultracycling is about. Expect a story on this here or in some media soon.
Family cycling holiday
Watching our son Ben grow up is filling me with joy. He turned 6 in October, goes faster than his mum on skis and loves riding his bike. In August, we went on a gravel bikepacking holiday on the SuisseMobile Jura Route. It is officially a mountain bike route but 98% of the section we did is on car free paved or gravel roads that are perfect for a family adventure (check our route on komoot here). The remaining 2% sent us on gnarly singletracks or cowshit covered trails and some tears were shed. Nothing that ice cream stops couldn't fix, though.
We camped and stayed in small hotels. We even spent a night in a tepee. I went to the emergency room after stabbing my foot trying to move Lillie's e-bike during a freak thunderstorm. Ben crashed only once and kept on riding like a boss in spite of the five drops of blood that came out of his arm. We are so proud of him and can't wait to go on another bike holiday together – if anyone has a suggestion on where to go next, give me a shout!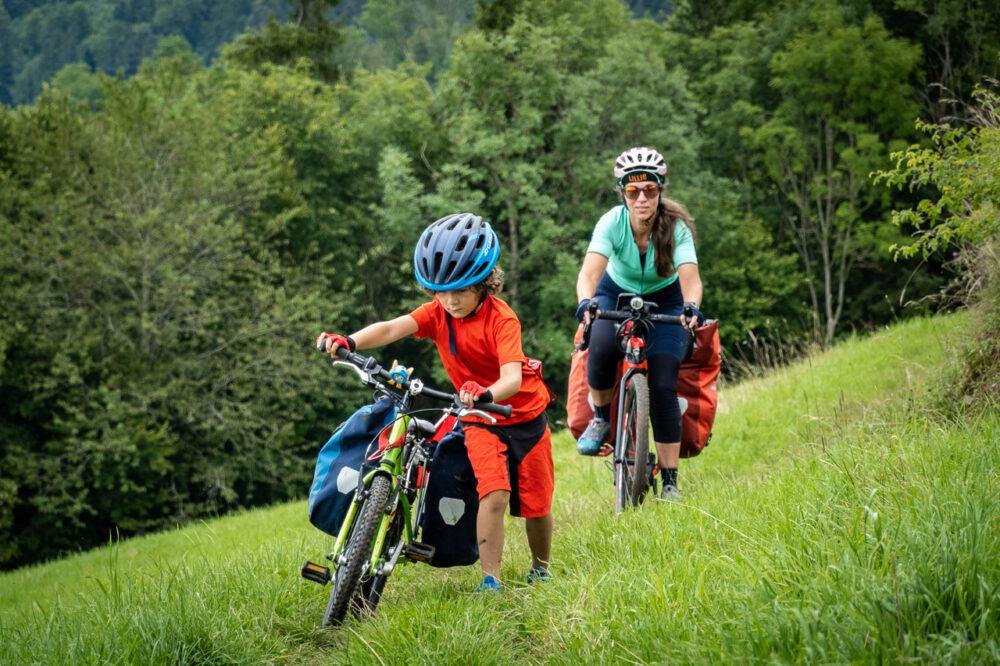 Hanging out with Lillie
Throughout the year, I also got to spend meaningful bike time with my wife. Lillie is on a long journey to recover from burn out (read her story here) and setting herself big scary athletic goals is part of her therapy to teach her body to deal with stress again.
With that in mind, she decided to participate in Dead Ends and Cake, a 480 kilometer bikepacking event in Eastern Switzerland. As the name indicates, it is about riding to five check points located on dead end roads and eat cake at each of them. This sounded so cool that I made a last minute decision to join her and document her challenge.
These 3 days were simply awesome, for many reasons. We discovered parts of Switzerland we had never been to. Like the Safiental, a long and quiet valley south from the massive Rhine Gorge. The round but oh-so-steep hills of St Gallen and Appenzell. The Kunkelspass, secret gateway to Graubünden. We also met many fellow participants on the way, from all walks of life. Mario, Andy, Emma, Sara and everyone else: it was so much fun to share this experience with you !
Above all, we just hung out together, laughing and chatting away as the kilometers were ticking. And I got to support my wife in her challenge, which sounds very much like her fight against burnout: there were ups and downs, dead ends, tears of joy and exhaustion, small victories, grand plans that got crushed and clever B plans. And cake. And beer. Thank you Dominik for putting on this event with an awesome vibe event and giving us the opportunity to share this time together.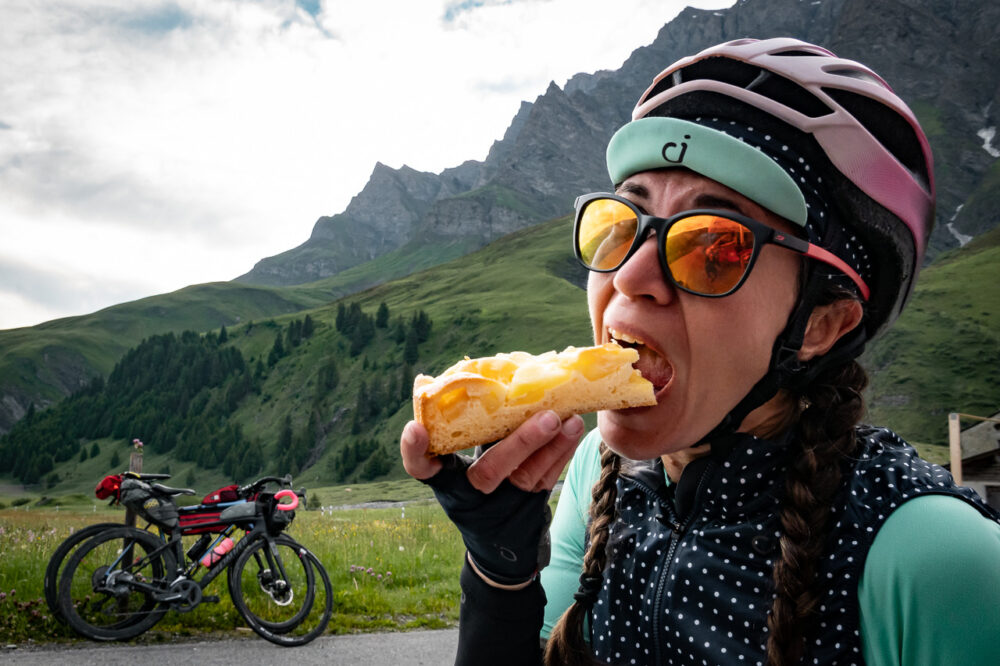 Follow the guide
Apart from taking photos, guiding is another way to share my passion for cycling that I enjoy a lot. Pandemic times are limiting opportunities but I spent a few fantastic days taking like minded cyclists on my favorite roads. Amongst other, it was an honour riding on my home roads with Doug to celebrate his 60th birthday. Coming all the way from Singapore, Nick had a bit of a shocker on the mighty Grosse Scheidegg but he loved it (or so did he politely say). I rode 3 days in Valais with Sander and Ruben from Holland. And I got to guide Thomas from Belgium on two separate occasions to shoot stories for Belgian magazine Grinta.
In July, I hosted a trip for InGamba as part of my collaboration with the Gstaad Palace. The weather was amazing (we got lucky as summer was quite wet in the Alps) and it was a huge pleasure to design the tours and guide our guests on the roads around Gstaad.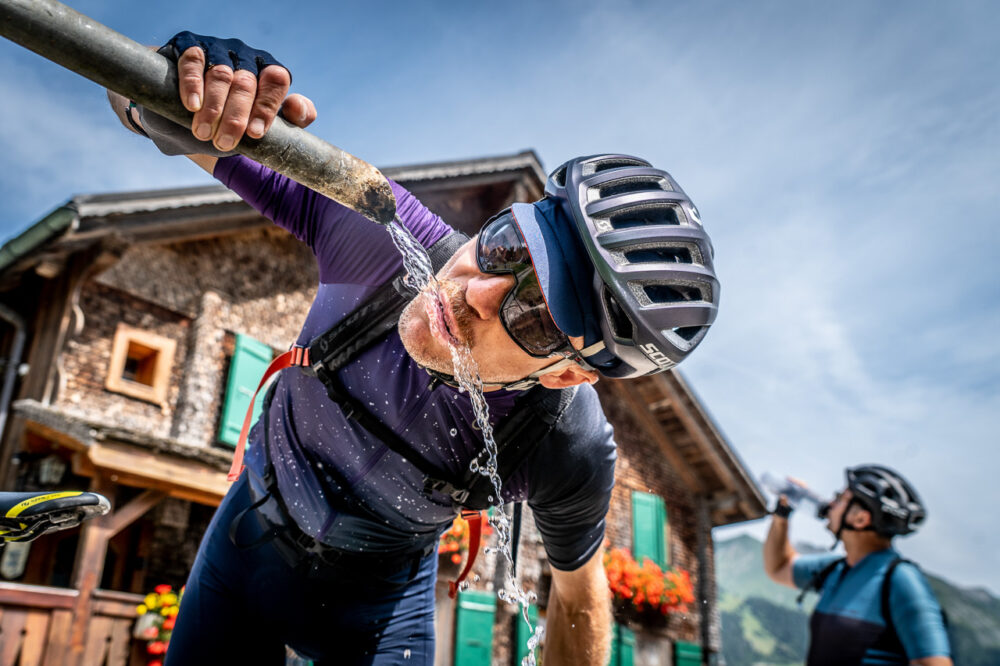 Off the bike
I am lucky that I'm able to share my passion for cycling even when I'm off the bike. In April of 2020, Lillie and I took over cycliste.ch . It's a blast to run the site, which caters for the Swiss French cycling community. We have a great team of local contributors who love to share stories with fellow cyclists. For me, it's a way to share my work in French and engage with a local audience. We are also offering a platform to race organisers and anyone interested to reach an audience of more than 12'000 unique visitors per month.
Working with tourism boards is certainly the least instagrammable part of my work but I love it and it's meaningful. Helping destinations to attract two-wheeled visitors means promoting low-impact tourism, giving cyclists the opportunity to ride their bike in new places and helping remote regions to create new revenue streams to sustain their local economy.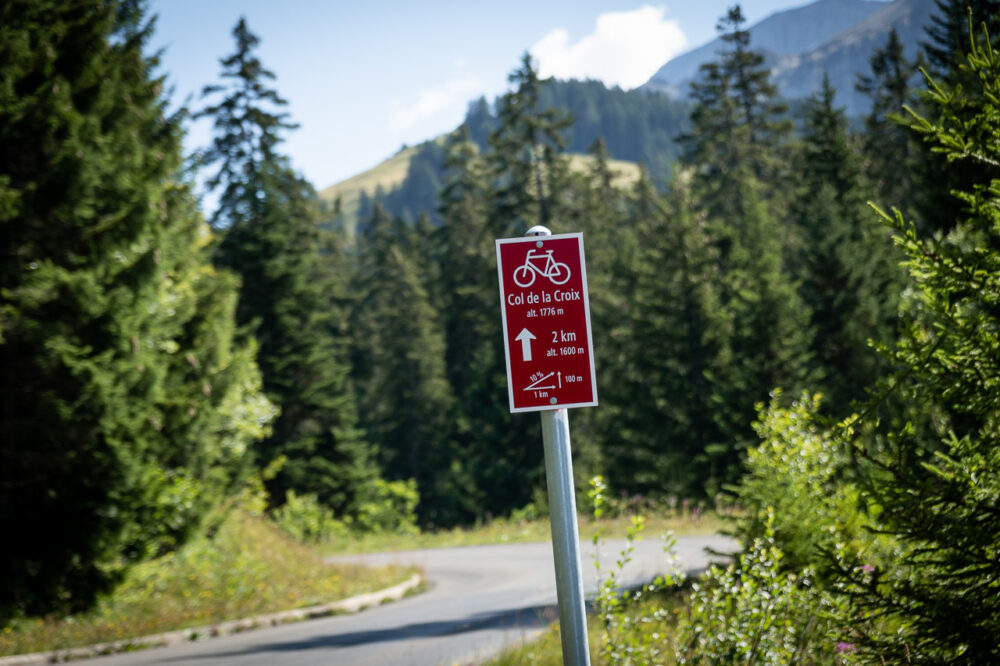 Project 50, sort of
Last but not least, I turned 50 this year. A big milestone I celebrated with family and friends on a beautiful and cold November day in a mountain refuge. Yes, time is ticking but I don't see it as a threat – yet. First I am lucky to be healthy and even if I am not getting any faster with the years ticking by, I can still achieve pretty much anything I can dream of. For me, turning 50 is an incentive to make my projects come true rather than adding them to my to do list. I feel I certainly did that in 2021 and will strive to keep doing it in the years to come. I even made a public announcement that I will share my experience and so far I have spectacularly failed at it, because I am a procrastinator at heart.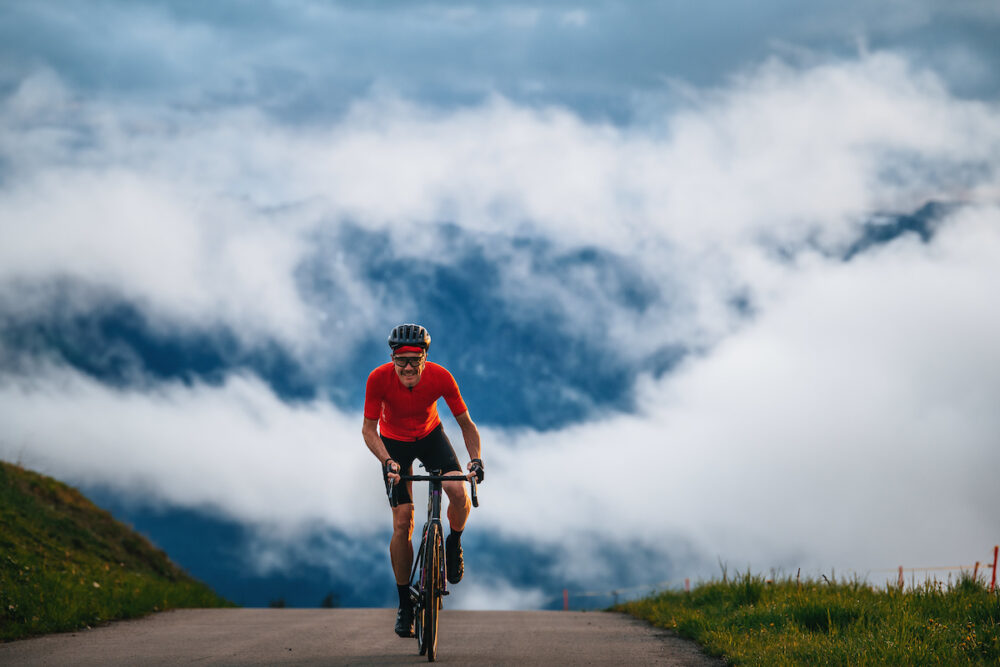 The low points
Of course, not everything was rosy in 2021. And I'm not talking about the C word. Was the Tour des Stations a low point? I made it a big goal to finish this race with 8848 meters of climbing (yes, some Everest marketing is very appropriate for this really hard event).
I trained a lot and had a good chance to succeed. But, like many participants, I did not expect the thunderstorms forecast for the late afternoon to come, well, earlier. I was still climbing to Thyon 2000 when they hit me. Between me and the finish were a big downhill and 1500 meters of climbing. 37 years of riding my bike had not made me smart enough and I only had a windbreaker with me.
Needless to say, I didn't last long. 5 kilometers into the descent, I had to stop in a pizzeria, the first place I found to take shelter. Javier, a fellow racer was already there, and we were soon joined by two other participants, Sven and Daniel, around the pizza oven that the staff restarted for us. As we shivered less and less and laughed more and more, we got to know each other and shared epic cycling stories. There was no way I was going to try and finish the race, which was anyway cancelled moments later as it got just too gnarly in the mountains. Lillie came to the rescue and drove me and Sven back to the start. I failed to conquer my Everest but all was good, the training was fun and I can only smile when I think of this experience.
Struggling at times to keep a positive mindset was more of a low point. It's been a challenging year for everyone and I discovered that mental health is not something you have to worry about only when you start having suicidal thoughts or you are not able to get up in the morning.
It is like physical health, which is more than taking care of your body when you break a bone or you are in bed with the flu. Looking after your body means to listen to it, to treat the little nagging pains before they get bigger and to rest when your inner voice tells you to. It's the same with the mind: #shutuplegs is not a motto you want to apply to your brain. I have space to improve and I need to accept that some days are better than others, and it's alright.
Anyway, I rode 10998.3 km this year and I had a blast. Thanks to my partners and supporters for making this possible:
As you know how good a procrastinator I am, don't expect a 2022 goal setting post before July. Actually, don't expect one at all. Happy New Year everyone!