June 5, 2018
Less than 4 years ago, I was working in an office – of an organisation I had been employed by since 1994. Things were not bad: my colleagues were cool (well, most of them) and I was making good money. We had free coffee, and I was riding my bike at lunchtime.
I was enjoying myself and claiming that I was dealing with super important stuff for the future of the world cycling. Oh and I had just started an MBA, with the classic ambition of 'taking a step up' in my career.
Today, I am a bike guide, riding with guests on epic roads in Switzerland and Europe. I also pretend that I am a photographer and a writer. Plus I like to be called by a funny nickname, A Swiss With A Pulse. One day, I will explain where it comes from – it's a good story.
So what happened to me? Am I one of these social media heroes who decided to quit the rat race and had the courage to turn his hobby into a job? If you're expecting me to share my secret recipe, you'll be disappointed. It was not a fairy tale: I lost my job in miserable circumstances and had to find something else to do, quickly.
At first, I was shit scared and running around like a headless chicken. But my wife Lillie, the craziest and most supportive wife ever, convinced me that I had another set of skills in me and could reinvent myself. Even if it meant struggling to pay our bills for a while.
Check out this video as well as the story that goes with it, produced by Switzerland Tourism. Their English is funny but they did a brilliant job capturing the essence of who I'm trying to be and what I do. It's not about the bike, as someone said: it's about sharing the life of the community I live in… about enjoying the beauty of the mountains. Eating good food and meeting inspiring people. All the simple and authentic things that make me – and my guests – happy.
Before, I wanted to change the world; today, I just try to have a positive impact on human beings around me. That's my purpose, what makes me get up in the morning.
Click here to read the full story on MySwitzerland, featuring my friends Brooke and Luca.
Maybe you don't want to change your life, or you don't have to. But what you can do is to take a break and do something fun that matters to you from time to time… like going on a big bike ride. Shameless plug: join me on the roads of the Alpes Vaudoises and beyond. We'll ride bikes, we'll climb a mountain or three, we'll take pictures and we'll eat cheese. Lots of cheese.
And if we fall short of conversation subjects, we can also talk management accounting, business economics or brand strategy: I finished my MBA between two tours last year. I got my picture taken with a square hat and I'm now the most overqualified cycling guide in the world.
Alain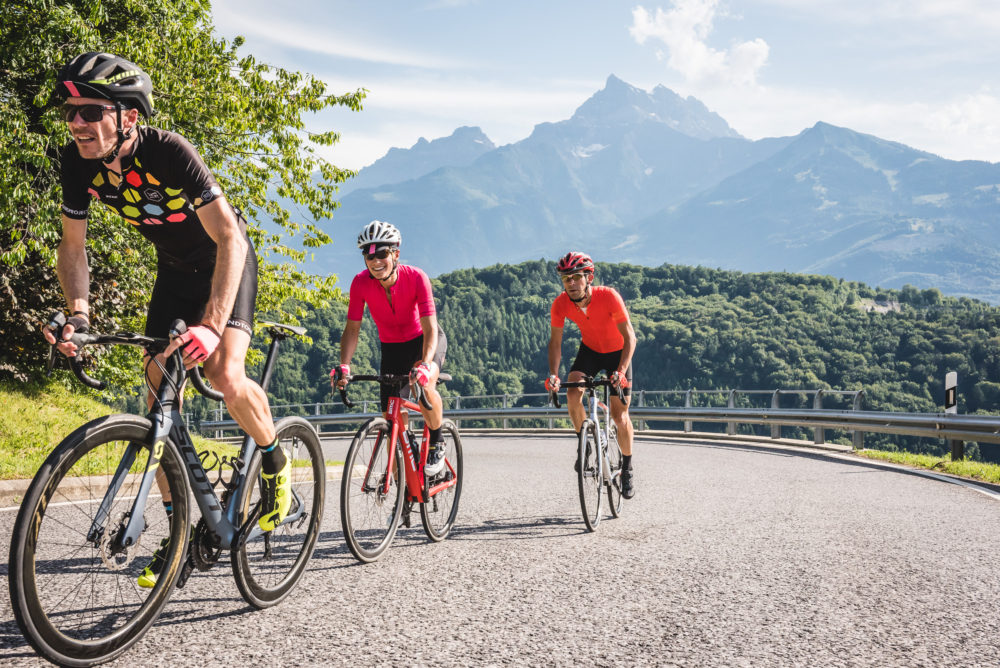 Photos: Switzerland Tourism
To stay up to date with the new posts on this blog, follow me on Facebook, twitter or Instagram.
Enjoyed this story? You might also like: