In this second article of a series on the mind and body struggle against everyday stress, my wife Lillie talks about how we can all accomplish great cycling challenges if we are willing to step out of our comfort zone. For the first article, see here. For the third, click here.
When I started the Torino-Nice Rally (TNR) with my husband Alain in September 2019, I had only one functioning leg and an embarrassing pain-killer habit. By the time we finished, 7 days later, both of my legs were working and I had cut my pain meds in half.
I don't really know how many miles I rode. I don't know how many meters I climbed. I don't know my average speed or how many hours I actually spent in the saddle. I never uploaded my GPS tracks to Strava. Sometimes I didn't even turn on my Garmin.
When I started, I had one goal: ride my bike.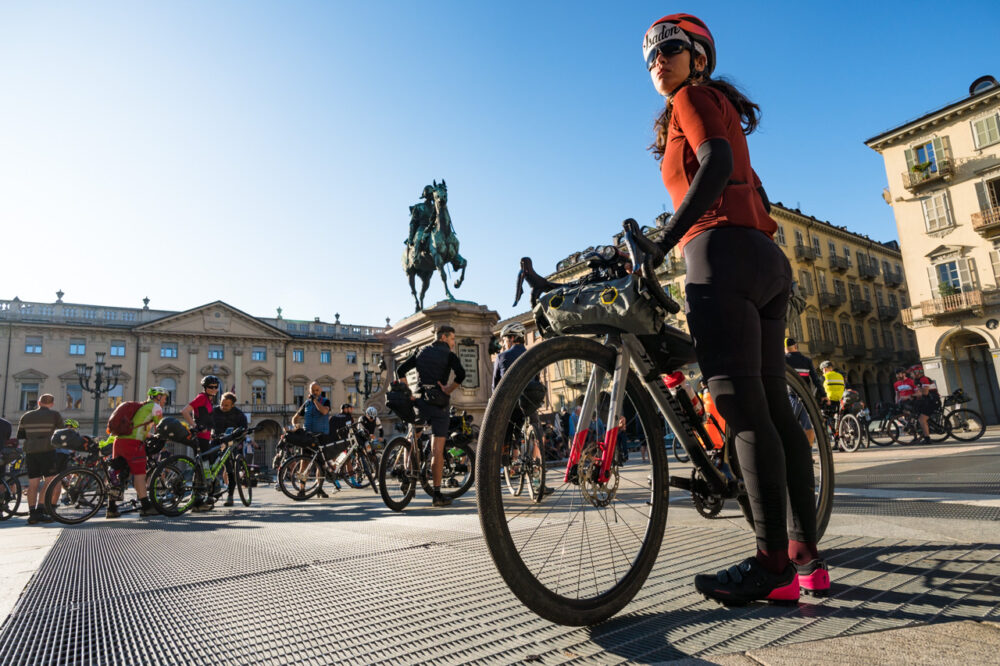 Two weeks before the TNR, I had my first major attack of an autoimmune neuromuscular disease (see article 1). I didn't understand why this was happening, I was only focused on my recovery and a small hope that I could do the TNR. For this was not just any event for Alain and me. It was our long-awaited honeymoon after… 4 1/2 years of marriage.
Yes, our ideal honeymoon would undoubtedly be filled with discomfort: bad weather, hike-a-bike sections, hunger, thirst, long days, and lots and lots of climbing. For some, this would be a nightmare. But for others, like us, it was a dream come true. We had trained for months. We had planned for our son's care. In my most positive American voice, I said to Alain, "Let's get this done!"
Because of my illness, I couldn't sit in a chair without experiencing severe pain along my sciatic nerve. But for some reason that I couldn't understand at the time, I had no sciatic nerve pain on my bike. Plus, I had at least one working leg, my right one, that was strong after months of training. So we decided to go to the start of the rally anyway and see what would happen. Because if I didn't start, I certainly wouldn't have a chance to finish.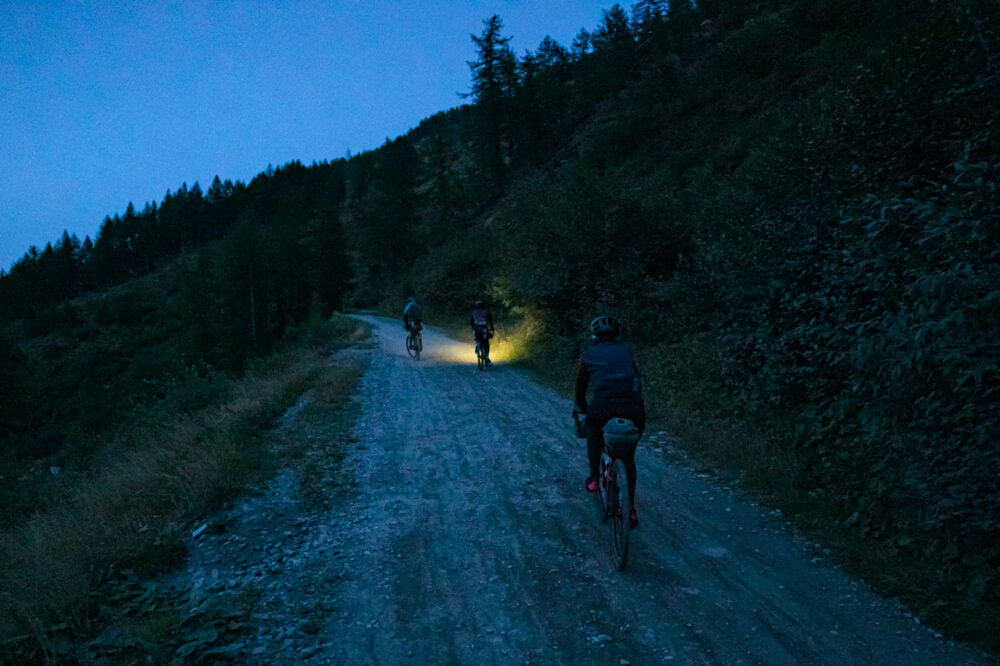 The Torino-Nice Rally is part of a genre of cycling events that has proliferated in recent years: the unassisted ultra-distance. With the growing popularity of races like the Transcontinental Race, and the near-impossibility of getting a race number, new events are being organized everywhere.
In 2021, there are dozens of such races, with different distances and terrains. An excellent list can be found here. Many members of the cycling.ch community have participated in these races and I don't see the trend slowing down anytime soon.
But who participates in an ultra race? Is it just for ultra fit?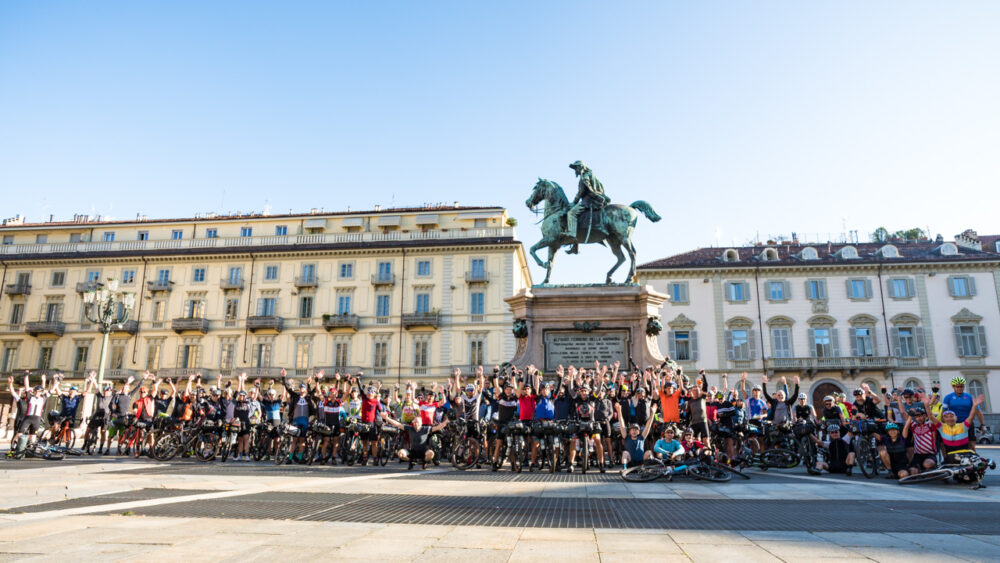 Surprisingly, most of the people who participate in these races are just cyclists from all walks of life who just want to ride, push their limits and get a taste of adventure. They are not there to win, but to finish. Young and old, men and women, big and small, riding full carbon race bikes or faithful steel beasts. Some camp in bus shelters, others sleep in hotels. These races are really for everyone. We fit right in.
But why sign up for such a race? Why would anyone want to put themselves in a position where they are guaranteed to be uncomfortable for long periods of time? It's as if we're all willing to accept a little type 2 and sometimes even type 3 fun for the ultimate goal of experiencing something extraordinary. Sure, we can remember a great day of skiing in the powder filled with type 1 fun. But it's even more likely that the memories we cherish the most come from times when we experienced something where, at that moment, we were truly miserable (if you don't know the 3 types of fun yet, click here).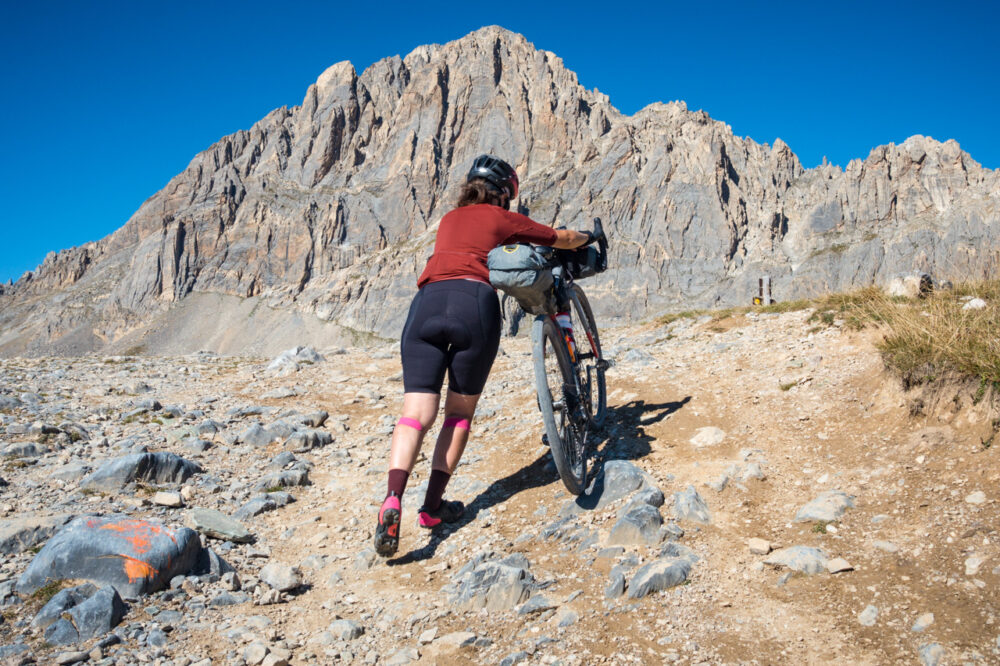 I was hoping to make it to Nice. But if I couldn't, no worries. I could always ride to the nearest train station and spend a few days sipping Pastis on the beach while waiting for Alain to finish. I wasn't riding to save time, I was riding to have a good time. I was riding for adventure. I was riding because I had a week alone with my husband for the first time since our son was born. I was with the love of my life doing what we love to do. Pain wasn't going to stop me from living this moment.
Alain and I were never alone on our high mountain pilgrimage to Nice. Of course, the first person to arrive in Nice was there before we reached our hotel on the descent of the Col d'Agnel on the third night. But that didn't matter. The spirit of camaraderie among the participants in beautiful places, experiencing the same pleasures and pains with amazing people is an experience we will never forget.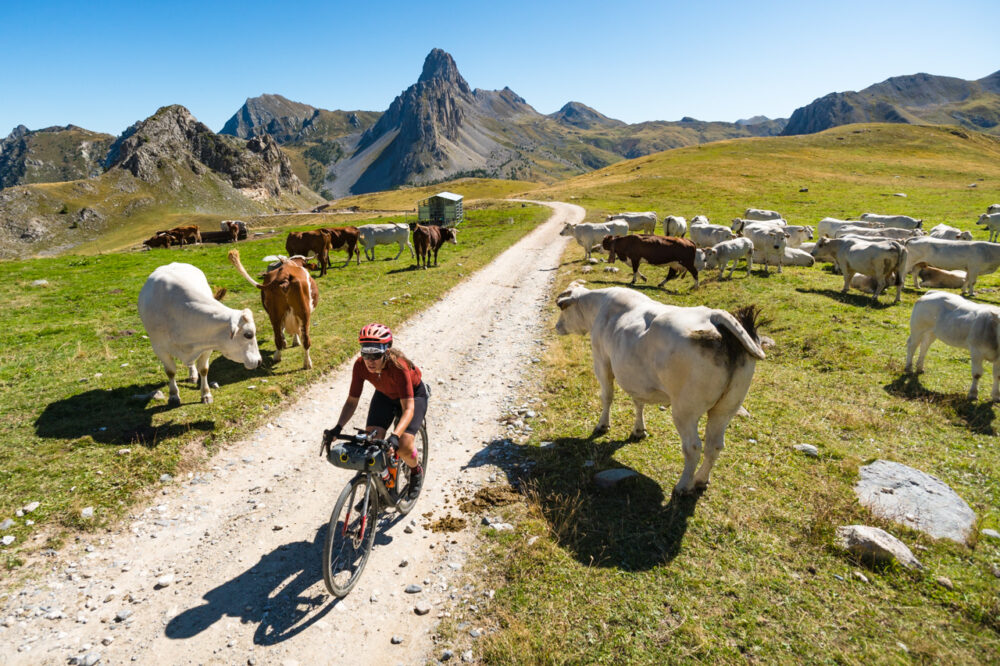 During the rally, I certainly had moments where I doubted myself. I cried, I screamed, and I felt a lot of frustration and anger from the pain. But somehow I kept going, one pedal stroke at a time. Maybe I'm just a masochist…in love with pain. In any case, I accept discomfort, hardship, and the unexpected as a necessary component of any meaningful challenge in life.
But, I think the reason I do this kind of thing is even simpler. Maybe it's the same for everyone. When I go beyond the limits of my comfort, my subconscious mind takes the reins to keep me alive. I don't think about anything else but the present. My consciousness, which normally goes in all directions, is finally silent. I am focused on my breathing, on my body, on the basics that keep me alive. I am in meditation. It is the tranquility that I need in my head that I struggle to find. Sport offers me this peace.
I am certainly not the only one who thinks like this. Why would cyclists sign up for longer and harder events than ever before if they didn't like the concept of suffering, even just a little bit? We Everest. We cross continents. We wake up before dawn just to squeeze a little ride into our busy lives.
Yes, we cyclists embrace suffering. We seek our limits at every opportunity. Perhaps the source of this desire comes from our subconscious, an instinctual response to make us more sane? To calm our increasingly stressed minds in our society? With our big intellects, we can do incredible things, but our instincts, our emotions, and our bodies are forgotten. Is type 2 fun-seeking a call from our body to shut-up our inner voice for just a freakin' minute to enjoy life?
Frankly, I don't think I will ever find a real answer. All I know is what I am capable of. I know I am good at solving problems, and somehow, someway, I always seem to find a solution to achieve my goals. So if I decide to go to Nice with my husband, then I for damn sure am going to do everything in my power to get to Nice no matter what life throws at me.
After completing the TNR against all odds, I decided to try something like this again. Over the course of my 18-month recovery, I've learned through experience, scientific evidence (which I'll discuss in a future post), and the support of my doctors that movement is indeed the key to my full recovery. But I needed a goal to keep me going despite the bad days.
As fate would have it, while creating the 2021 cycliste.ch event calendar, I received an email from my good friend Chris White, a local legend in the unassisted ultra-distance bikepacking community. He wrote to tell me about a new event that might be interesting for the calendar. It is being held in eastern Switzerland, with "only" 500km and 8000m of climbing. A quick mental calculation proved to me that even at a ridiculously slow pace of 15km/h, it can easily be done in 3 days. It seemed PERFECT.

So it was at 8:00 pm and 1 second on a Saturday night, while sitting at the dinner table with close friends, that I logged onto the Dead Ends and Cake website and signed up. I was embarrassed that I broke my "no screen" rule during dinner, but it's a good thing I did. The race sold out in one minute for the men and four minutes for the women. This, by the way, is proof that there are a lot of people out there looking for "type 2 fun".
Yay! Now I get to ride my bike in Heidi land, around places I've been dreaming of exploring for years. And eat cake! The happy little girl inside me screamed with joy when my application was accepted.
In future posts, I will explain how an average injury-prone athlete like myself can prepare for such a race, about the physical and emotional struggles behind mental illness, and how the human brain is able to create and also eliminate pain. Stay tuned.