January 1, 2017
What a year. I wrote it twelve months ago: 2015 was the beginning of a new journey. It continued in 2016 with many ups, and a few downs. Where shall I begin?
Certainly with Grand Tours Project. Starting a cycling tour company from scratch was a huge challenge. Did we succeed? Virtually nothing went according to plan, but that's the norm for every start up company. What matters is that we ran a bunch of kick-ass tours and saw big smiles on the face of our guests. Just read their stories on our blog: Beth at the Giro, Kath at the Maratona dles Dolomites or David in Sardinia. Huge thanks to Keith, Grand Tours Project's founder and Chief Purpose Officer, for his support and guidance throughout this first season.
My personal highlight was to (re)discover my own country. Switzerland is not on the radar of many cycling fans; those who believe they can only reach nirvana on the legendary passes of the Tour and the Giro in France and Italy. But a new trend is emerging: there is an appetite for exploring new destinations, and the Swiss Alps are a fabulous playground for cyclists with breathtaking landscapes, challenging climbs, perfectly surfaced roads and little traffic.
Throughout the year, we ran tours, helped with media trips, wrote stories and shot pictures on Swiss roads: the Grosse Scheidegg, the Tremola, the Sanetsch, the Col de la Croix (my home climb) and many more. The incredibly positive feedback that I got convinced me: this country is a hidden gem and I'm now on a mission to share my passion for cycling in Switzerland with the world. You're going to see a lot more of it soon… you've been warned!
Not so long ago, I was afraid of sharing personal experiences. "Who would find them interesting?" said the introvert in me. I started, slowly, with photography. And much to my surprise, I found an audience (thank you, Instagram). Then I added words and started blogging on A Swiss With A Pulse. It was freaking hard and I struggled to post on a consistent basis – I still do. But I enjoyed it and found out that some people were actually reading my stuff. in 2015, CyclingTips gave me the opportunity to share my Transcontinental Race adventure in words and images. I could not believe the feedback I got: people from all around the world were inspired by my story. It was not something superhuman, never done before or fictional. Just what I did, what I saw, and how it changed me. This is when I discovered myself a true passion for storytelling, which has grown ever since.
Over the last twelve months, I've worked with a bunch of brilliant publications and brands to share what I love and do best: ride my bike in beautiful places and meet cool people on the way. This included riding a gravel bike on the Strada dell' Assietta with my friends Jacqui and Dan, following Beth on the roads of the Valais region, discovering Sardinia with the locals, making a bunch of new friends in Mallorca, telling all about my favorite Swiss roads and bikepacking from San Francisco to LA. You might have seen some of these stories if you're a reader of Cycling Plus, Vélo Magazine, RoadBIKE Magazine, Adventure (China), RIDE Cycling Review, Road Cycling UK or ALPSinsight. Thanks to them, as well as Scott, Rapha and Apidura, I've been given a platform to inspire people to get on their bikes, go for an adventure and create meaningful memories for themselves.
To no surprise, I rode less this year than in previous years. And that's fine. Because I had to make room for all these cool new things I'm doing, and for family time with our little Ben. Still, I had an awesome bike adventure in California, rode the Maratona dles Dolomites, explored the Strada dell'Assietta and discovered Sardinia. Not bad for an 'off' year…. Fun fact: I was looking at my calendar the other day and found out that the month where I rode my bike the most was… December with 22 rides. Why? No snow, sun and dry roads. In other words, sensational riding conditions. And I live in a ski town where I should have been shredding the gnar from my doorstep. It was the same twelve months earlier. With climate change, alpine resorts need to rethink their model and cycling is part of their future. You read it here first (or maybe not).
Family. Thank you for giving a purpose to my life. Thank you Ben for being the best baby ever and inspiring me to be the best possible dad. Thank you Lillie: you're renovating our chalet with your own hands and just need me from time to time to carry a plaster board or plant some nails. But all the rest is you. Soon we'll be moving back into our brand new bedroom and I'll be so proud of my architect / finance manager / badass builder wife. Thank you Wendy, my lovely daughter. 22 years old? Where did time go? Thank you Mum, I'm so happy to visit you with Ben every Thursday to eat pizza and meringues week in, week out. Thank you Dad. You left us in May; I know you wanted to hold on long enough to see Ben walk, but it did not happen. In your own way, you have been my biggest supporter in everything I've done in my life. I miss you so much.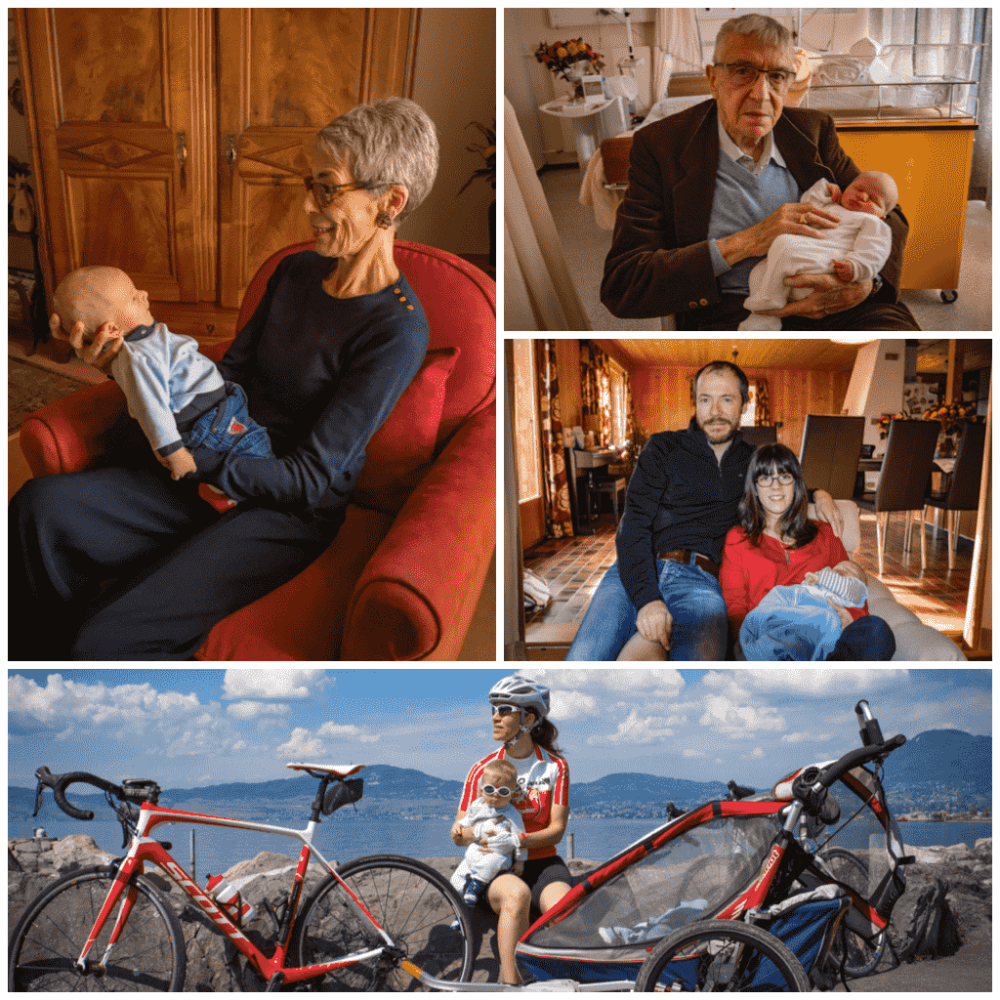 And thank you friends! You know who you are. Life would be considerably less fun without you.
All of the above takes time, in a world where we feel increasingly busy. Busy is the buzz word right now. « How are you? » « Oh, I'm so busy ». But we do so much stuff that we struggle to see what really matters. A few months ago, this is what I wrote on the Grand Tours Project blog:
"most of us complain that only a portion of what keeps us so busy is meaningful. We feel like we are no more than rats in a cage."
Actually the more I think of it, the more I believe that meaningfulness is the key to happiness. So many things can be meaningful. For me, it's riding my bike at sunset. The big grin on my guests' face after a day riding up and down mountains. My son making his first steps towards his mum. As opposed to the view of an overflowing email inbox or the latest cat video on Facebook.
So I'll make a new year's resolution: in 2017, I want to find time to live more meaningful moments with the people I love. That's pretty catchy. What's yours?
Alain
The best way to check if I stick to my new year's resolution? Follow me on social: Instagram, twitter, Facebook  or Strava
Enjoyed this story? You might also like: